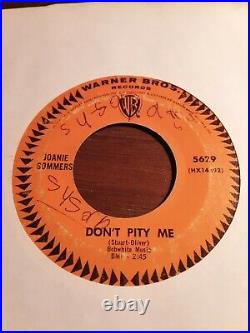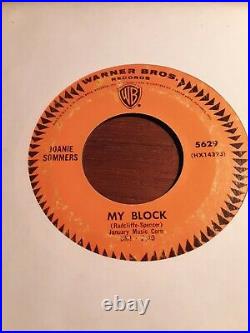 In my continuing quest to bring you fine vinyl, I'm happy to offer the record(s) listed above. (and of course, as usual, please check out my other listings to find things that you may need). Here is finally a copy in the wild. If my research is correct, the last time that this NoSo. This is a true original US Warner Brothers. Perhaps I'm mistaken, but I myself see a lot more of the promos than I do of these. As you've no doubt gleaned from the pics, this record is by no means a showpiece. For sure, and definite scratches and hairlines. That being said, I've seen other records in FAR worse. Side A: Don't Pity Me. Wol is obviously present; performed with a black ballpoint pen, but NOT an. Label paint mini-chipping is seen in a concentric circle approx 1/2 from spindle hole. Many hairlines are present and easily viewable. Small amount of marking on playing surface at approx. 12:00, just above the matrix number. Speaking of such matters… Stamped matrix in deadwax. The value of which is HX-14392-1D. I'd like to say that the early stamp makes it a first press, but I. Cannot do so at this time. Any scratches other than hairlines are light and. Cannot be felt with a fingertip, and close examination of the disc under a halogen bulb shows no. I'd be pretty much on point to give this a straight VG grade. Not pretty, and certainly not. An appearance of a crown jewel… However, a feather in any DJ's cap on OVO night. Side B: My Block. Circular paint mini-chipping is definitely less than on the A-side. Apply here as they did to the A-side. Any other scratches that are present are. Again light and unable to be felt. Some amount of'skidding' on grooves. Slight hazing near intro wax near. 6:00 and 7:00 positions. Stamped matrix in deadwax here as well; the value of which is HX-14393-1C. For Side B: Going with VG on this side, too. Ephemera/various: Some extremely light random tiny spots on both sides of record. As with all records, a careful dusting/cleaning may be required for optimum playback. In the case of. This record, use judgment and common sense should you decide to clean it. My mention of cleaning. Is simply a statement, and in no way indicates culpability. If it's significantly different than advertised, or is broken. FIVE DAY ONLY SALE. Please see and examine pictures, as they are part of the listing. If you would like additional pics, just let. Please allow for some. Additionally, due to cost and availability issues, I can only. US buyers will still receive deliveries, of course. However, these record(s) will be sandwiched in between stiff cardboard squares, wrapped in. Bubble wrap and placed within a suitable container. Anything after that, and an unpaid. Item case automatically opens. This is a huge jump over what the costs used to be. These rates are exorbitant. On the weekend, 8oz package, First Class Int'l. In advance to determine quote. Rates to Germany, France and Japan will stay the same as before. Here's a rough breakdown, of which I'll adhere to. 1 -2 45 rpm singles weighs under 8oz. 3 or more is over. 1 LP record is already over 8oz (it's actually closer to 14oz). The price break for multiple LP's is at 32oz, i. Most of this would be. Depending upon circumstance, order status, availability and most importantly, weight. We'll talk it through and hash it out. Paper sleeve (will match company of the record if available), poly outer sleeve. A stiffener is placed under the record, then the next one is turned at 90° with the record in between. Specialized mailing boxes are exclusively used for mailing 45rpm records (or LP's). With no exclusions whatsoever. If you are getting more than one record from me, please wait until I send you an invoice. Please feel free to contact me. I've an open-door policy! The item "RARE! Northern Soul JOANIE SOMMERS Don`t Pity Me My Block US Warner 5629″ is in sale since Saturday, February 6, 2021. This item is in the category "Music\Records". The seller is "scott_stuff" and is located in Camano Island, Washington. This item can be shipped worldwide.
Artist: Joanie Sommers
Country/Region of Manufacture: United States
Style: Northern Soul
Duration: Single
Speed: 45 RPM
Record Size: 7″
Record Label: Warner Bros.
Release Year: 1965
Language: English
Edition: Original!
Genre: R&B & Soul
Sleeve Grading: N/A
Special Attributes: Mega-rare!